HOV Access
Issue 11 | June 16, 2021

Summer mood

It's getting hot. Like climate-change-is-real hot. Western U.S is facing record breaking heat wave. As is the Middle East, Morocco, Taiwan, Vietnam, Pakistan, Philippines and basically most of Asia. Time to take a close look at infrastructure and how (ill)equipped it is in dealing with the effects of climate change.

Elon Musk might be the puppet master of stocks by Tweeting about them (read: Baby shark stocks go soaring), but he's still not space king. There's another billionaire who just beat him to it. Any guesses? Find out in the issue below!

Sad news for most, offices are calling employees back again. Sooner than we would have predicted. Will you wear sweats to work? If formal work clothes don't fit you anymore (or if you just dontaed them all in excitement), join the club! We think Lululemon is revolutionizing business casual. Wear cute sweats to work - sweeter words have truly never been spoken.
Share this newsletter with a friend and get a chance to feature your startup or contribute to HOV Opinion.
Big Tech is being resized. A group of lawmakers in the U.S have introduced some bills aimed at curbing the power of tech giants and could possibly lead to their breakup. Quick preview of the bills:
Conflict of interest - Can't operate a business if you're selling your own products on that platform (read: Amazon marketplace selling Amazon products)
Bias - Can't sell a business if you can unfairly promote your own business through that platform (read: Google showing it's own reviews before Yelp)
Mergers - Making it hard (and expensive) for Big Tech to swallow small tech (read: FB acquiring Instagram)
The Bitcoin 2021 conference in Miami last week was one of the biggest events to take place in the U.S since Covid-19. The conference had over 12,000 attendees... Most of which are now Covid positive. Mister Musk is still pulling the strings when he tweeted on Sunday saying Tesla will resume allowing Bitcoin transcations ONLY when miners use more renewable energy. Any guesses on what happened next? Bitcoin surged 9.8%. Behold, the power of a Tweet. By Musk only of course.
Krispy Kreme is filing for an IPO. The retailer has $1.2b in debt which has kept it from making profit despite increasing revenues. The company already went public in 2000 but was acquired by JAB holding in 2016. For history on Krispy Kreme and how it gained a cult following, read the insider here (sorry if you're craving a doughnut now).
Last issue we were talking about Twitter acquiring Revue - this issue we're talking about Twitter launching a subscription service. Advertising is the current revenue stream Twitter has; maybe this subscription business model can change that.
IBM is calling it's employees back to office in September. On the other hand, Facebook is saying most of it's employees would be allowed to work remotely. How do you decide which to do? We're obviously still remote FYI.
Space company Blue Origin by Jeff Bezos is flying him and his younger brother to -- wait for it -- space. If things go according to plan, Bezos will be the first billionaire to fly himself to space. Something not even Musk (owning SpaceX) has been able to do. Retirement for Bezos looks good.
Top picks, curated keeping you in mind
Jacob Kaplan Moss / Article
What's the difference between praise and positive feedback? Feedback is an important tool in your manager toolbox and helpful for a manager who wants to be effective. Use both properly and be able to differentiate between the two.
Twitter / Advice
Some practical tips on how to stand out in the hiring process. No one wants to be "just another application." These tips don't involve your resume! So check them out.
The NY Times / Health and Wellness
The validation you've been looking for. Don't let anyone tell you not to drink that cup of coffee again (ok just joking, do what works for you - always).
Nir Eyal / Book
Looking to break into product management but don't know how? This book gives advice by various product managers.
💬 Quote of the day
"Crocs has unexpectedly turned its polarizing crayon-colored shoes into a hip, even glamorous, statement" - The Washington Post on Crocs. Crocs are back up in price and even popular at the Academy Awards.
💰 Digits or it didn't happen
The valuation of China's ride hailing service, Didi. Didi Chuxing has filed for a U.S IPO. Didi reported losses from 2018 to 2020 but the company's revenue for 2020 was more than both Uber and Lyft's combined. What's Didi doing that the others aren't?
If you're Gen Z and reading this, you know what Depop is. For everyone else, Depop is a London-based fashion resale market (sell your old clothes on Depop). It's now being acquired by Etsy for $1.6b. The thrifting market is worth between $30-$40b globally.


Not a massive funding but it marks the first investment by American VC Kleiner Perkins in Pakistan. The Lahore based B2b e-commerce marketplace graduated from Y Combinator in 2020.
Sharing the tools we ❤️ All collaborative for this week!
Bubbles
Giving feedback on landing pages and sites, without having to login with this free Chrome Extension. People can skip to the exact spot on a page where a change needs to be made.
Motionbox
Another collaborative video editing app??? YES, because you can never really have enough. Motionbox makes reviews and sharing easy.
🤓 Pop Quiz
Approximately how big is the creator economy?
But first, what IS the creator economy? It's a class of businesses built by over 50 million independent content creators, curators and community builders, including social media influencers, bloggers and videographers.


The creator economy is only a decade old, but already more than 50 million people now call themselves creators. Why? We think it's because of a shift in society toward working jobs that feel more fulfilling. No one wants a 9-5, to wear a suit and tie to work, or be stuck in one cubicle. The economy got a boost with newer technology in cameras, phones and faster networks. If you think all it takes is a phone and being comfortable sharing your life with strangers... You're wrong. Creators have to be creative, have unique ideas, be incredible storytellers and leaders of a fan community.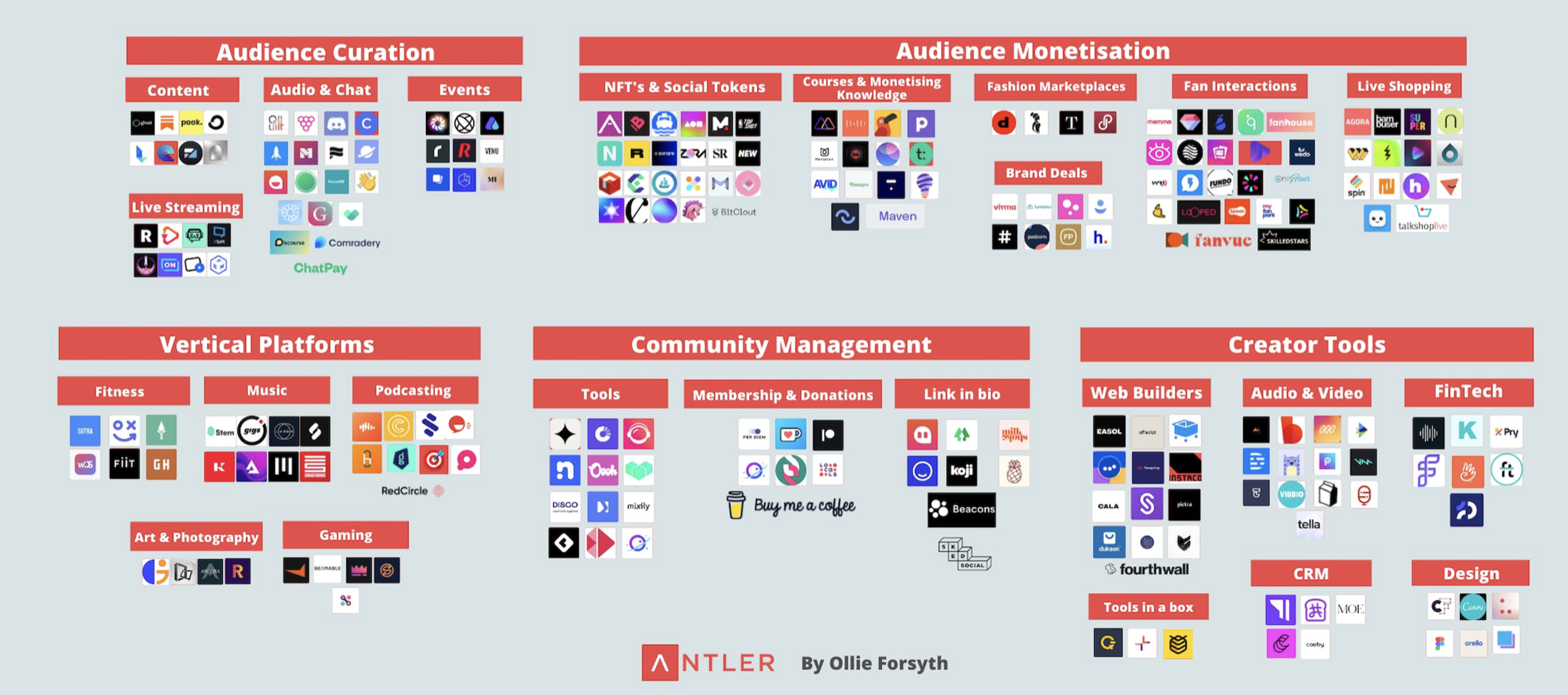 Out of the 50 million creators, 2 million are making full-time content on a professional level. Becoming a professionalized creator is currently one of the most desired jobs in the world.. And we think it's going to stay that way for a while, which is why startups who play supportive functions to the creator economy will be the ones to flourish in the coming years.
💘 Mood of the week
There's a great, big, beautiful tomorrow at the end of everyday

Was this news valuable to you? Let us know!
Enjoy this issue? Share it.
High Output Ventures, 3 Temasek Avenue Centennial Tower, #21-00 , Singapore 039190, Singapore
© 2020 High Output Ventures, All rights reserved
You have been sent this message because you signed up at hov.co